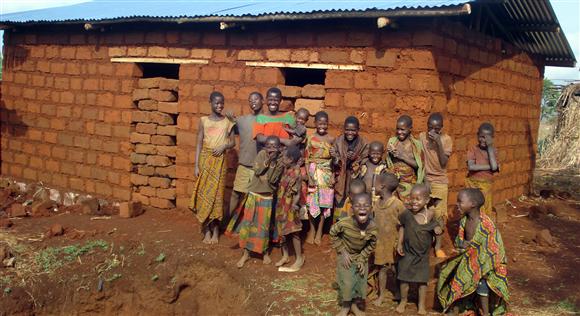 Muyinga Project - Housing
FAMA has financed the construction of 40 watertight homes for the Pygmies of Muyinga! When FAMA launched its education program in Muyinga, Pygmy families lived in primitive huts made of leaves and straw and other miscellaneous materials. These huts provided almost no protection from the elements. When the weather was bad, it was impossible for anyone to sleep. Lack of sleep interfered with the children's studies and the rain ruined their clothing and school supplies.
120 pygmy families now work side by side with 30 Hutu and Tutsi families to sow, cultivate and harvest beans, corn, and potatoes. This is a huge step forward for members of all three tribes.
In 2009, FAMA built its first watertight home for a Pygmy family. As of 2014, FAMA has constructed homes for 40 Pygmy families! The Pygmies make the bricks and FAMA provides the remaining labor and materials for approximately $1,380 per house. Each house includes three beds complete with mattresses and sheets, as well as a table and four chairs. Today 40 Pygmy families are sleeping in beds in their own homes. The entire community celebrates when new houses are built. Now all the Pygmy families are eager to make bricks for their homes. FAMA's goal is to build homes for all 200 Pygmy families of Muyinga.
Only $1,380 builds and furnishes a home!